Hello, Coffee Lovers! Welcome to our Breville BES870XL Barista Express Espresso Machine Reviews.
Barista Breville is all that you will need to have a barista qualified coffee every morning. You can get coffee from beans in no time. This machine is both a brewer and a grinder. Your espresso will be ready in less than one minute. With infuser and button controls the Breville BES870XL Barista Express Espresso Machine is precisely the type of machine one would want.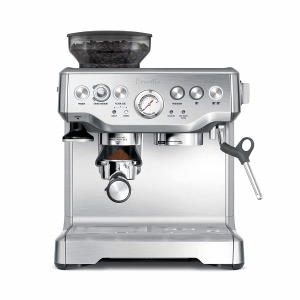 The Italian Style And Thermo Coil
The thermo coil heating system of this particular coffee making machine is of 1600 Watt. The Italian pump is of 15 bar.
Accessories
Coffee With The Perfect Temperature
 The device comes with a feature where the temperature of the water is adjusted automatically after the steam is released. This way, the espresso is released at ultimate and perfect extraction temperature.  This feature is essential as you do not have to heat the carafe with hot water to get a hotter coffee.
Stainless Steel Burr Grinder With A Sealed Bean Hopper
The machine has a burr grinder which grinds far better as compared to the blade grinder. Burr grinders grind coffee more efficiently and faster than the blade grinders. This burr grinder is made up of stainless steel with ½ lbs. of the sealed bean hopper.
Grind Size Selector
There are grind size selector settings available which can help to regulate the coffee powder you need from coarse to excellent. These settings are present on a grind dial on this machine.
2-Liter water Tank Capacity
 The machine comes with a water tank capacity of 2 liters and a replaceable water filter.
Easy Volumetric Control On The Machine
One can easily control volume for cups as there is an option for volumetric control in the device. Thus you can control if you need one cup or two cups of coffee.
Clean Me Light Indication
There is a clear me light indication that indicates whenever the Espresso machine needs cleaning this light will turn on. Hence you do not have to wonder about when was the last time you cleaned the machine.
Removable Wet And Dry Drip Tray
 The device comes with a removable drip tray for both wet and the dry type of spills.
Though this unit didn't make it our best coffee maker with grinder guide, it still has some quality features.  Let's have a look!
We also have a complete Best Espresso Machine Reviews if you want to check that out.
Let's A Video Review On Breville BES870XL Barista Express Espresso Machine
Pros & Cons of Breville BES870XL Barista Express Espresso Machine
Breville Barista Express Tips and Tricks
Frequently Asked Questions
Breville BES870XL Barista Express Espresso Machine is the type of coffee machine that makes your kitchen look elegant and it also one of the best coffee makers with Grinder available in the market now. The coffee is produced within a minute, and you do not have to wait every morning to get your coffee. With your own choice of grind size, you can now have the type of coffee you want anytime.