Start your mornings fresh with a rich aromatic cup of fresh grounded brewed coffee.  You can say goodbye to the sleepy mornings by using this Cuisinart DGB-550BK Grind & Brew Automatic Coffeemaker. It is one of the best coffee maker with grinder present in the market today. It is a 12-cup deluxe model that involves a remarkable technology for coffee making. Cuisinart DGB-550BK provides a fresh and unprecedented coffee flavor. This coffee maker has an Italian style and adds beauty to your kitchen. With this product, you will no longer have to wait to get your coffee until the cafes near you are open. Cuisinart DGB-550BK has some smart and amazing features which you must like.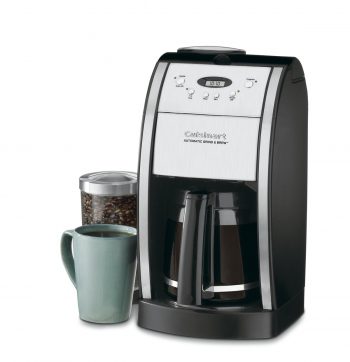 Check Latest Price On Amazon (#ad)

Top Features of Cuisinart DGB-550BK
Easy To Clean With A Separated Grind
This Coffeemaker has a separate assembly to grind. It has an easy to clean filter chamber that makes it easy to add beans and grounded beans to remove quickly.
Grind Off Function To Use Pre-Ground Coffee
For the usage of preground coffee, you are provided by an option '"grind off," which makes it more convenient.
24-hour Programmable Unit
Cuisinart DGB-550BK Grind & Brew Automatic Coffeemaker has a 24-hour programmable unit which allows you to have your "wake-up" coffee. It has brew pause functionality so that you can have your coffee before the end of the brewing cycle.
Shut-Off For 4 Hours
It provides auto shut off functionality for 0 to 4 hours and also has 1 to 4 cup feature.
Dripless Glass Carafe
A glass carafe of 60-ounce makes up for an excellent dripless serving.
Pure Coffee By Using The Charcoal Filters
You get a gold tone commercial and a charcoal water filter that removes all the impurities. This gives you a genuine flavor of coffee without any alterations.
Italian Styling With A Limited Three-year Warranty
This product comes with a limited three-year warranty. The product comes with an Italian styling that adds elegance to your kitchen.
Dishwasher Safe
This product has parts that are dishwasher safe.
Let's A Video Review On Cuisinart DGB-550BK Grind & Brew Automatic Coffeemaker


Check Latest Price On Amazon (#ad)

Pros & Cons of Cuisinart DGB-550BK Grind & Brew Automatic Coffeemaker
Reservoir Cover makes it easy to flip back to fill coffee beans quickly. This provides easy access to clean. One significant benefit of this machine is that it comes with an interlock system which prevents it from operating if the reservoir cover is not closed.
Showerhead present in this machine distributes water evenly all over the coffee. This helps to reduce the temperature loss as water passes through the ground coffee.
Cuisinart DGB-550BK Grind & Brew Automatic Coffeemaker has a filter basket compartment that contains filter basket, commercial gold filter, filter basket cover. You will get a fresh flavored coffee without any impurities.
Its Brew Pause feature stops the coffee flow as soon as you remove the carafe. This way you can pour yourself a cup of coffee in case you want it mid-brew.
The heating plate comes with a nonstick coating and is scratch resistant.
The grinder is too loud, which can wake other people if you do not live alone.
It has a blade grinder which makes it lesser efficient then burr grinder.
You need to measure the coffee beans every time you want to make yourself a cup of coffee. Unlike some other coffee machines that will measure the coffee beans by it, this comes as a big con.
Frequently Asked Questions
How to take out the coffee filter?
On the left side of the coffee maker, you will find a button that is the same height as of the filter. Once you push that button, your coffee filter gets loaded, and it pops out which makes it easy to access the coffee filter.
Do I have to clean the whole machine before reuse?
Yes, you have to clean all the five parts before using the machine again.
Why am I facing the issue of overflow with my Cuisinart?
If the carafe's handle is not facing the front, then you will meet the issue of overflow and leakage. To avoid this, you will have to place the carafe with the handle outside the machine.
No, it is a blade type grinder.
Does it remove all the extra contents from the coffee?
It comes with a charcoal filter which efficiently removes chlorine, bad odors, and tastes to give the purest coffee flavor.
Yes, the gold filter is easily removable for cleaning purposes.
Can I set the timer on the machine to function automatically?
It comes with a 24-hour programming feature. The product comes with a manual, which makes it easy to configure your machine as per your demand.
Is it battery operated, or does it need electric supply?
No, it is not battery operated. The electric voltage supply must be of 110 V.
How do I measure the coffee beans before putting it in the grinder?
You have to take a spoonful of coffee beans per cup. You can take four spoons of coffee beans for 4 cups of hot brewed coffee.
Final Verdict
The Cuisinart DGB-550BK Grind & Brew Automatic Coffeemaker sums up to be one of the fantastic coffeemakers in the market. The features make it easy to use. It comes with a three-year warranty and a user manual that will guide you to start your mornings with a fresh cup of coffee. Cuisinart DGB-550BK is user-friendly and fully programmable, which makes your morning coffee equally tasty, delightful, and refreshing to go precisely when you wake up.

Check Latest Price On Amazon (#ad)