Hello Coffee Lovers! Let us welcome to our Delonghi EC155  Espresso & Cappuccino Maker Reviews.
Understanding how one espresso machine works differently from others is a very difficult task and checking out the best machines before you proceed to buy is even a tougher one. With all the espresso machines available in the market, it is quite normal for people to get confused. This machine comes with several wonderful features, especially the 15 bar pressure pump which ensures to give you the best results every time. The machine also has swivel jet frother that gives you a frothy and foamy layer on your cappuccino and Latte. Best espresso machine reviews consider this machine to be among the top 10 coffee machines in the market because it gives you several features and produces a barista-quality coffee.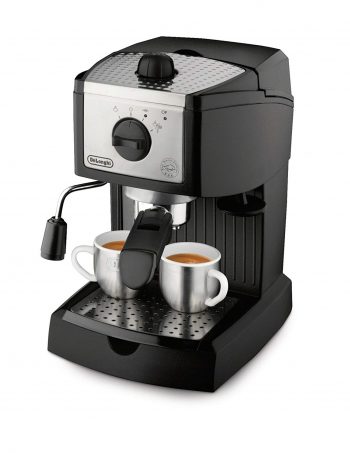 Dual Function
You can either use the coffee pods or the ground coffee as per your choice. The machine provides a feature of the dual Function filter holder which allows you to choose the type of espresso you want to have in a simple and fast way.
Swivel Jet Frother
The coffee machine comes with a swivel jet frother which allows you to easily prepare your perfect cappuccino and Latte. The machine operates on a Voltage/frequency of 120-60.
Self-priming Operation
The machine has a self-priming operation that helps you to eliminate annoying start-up preparation.
Perfect Temperature
The coffee is always prepared at the perfect temperature eliminating the need for heating your coffee. This temperature is maintained by the two separate thermostats which control the steam and the water pressure separately.
Durability
The boiler of De'Longhi EC 155 15 BAR pump espresso and cappuccino maker is made up of stainless steel of a very high quality that assures the durability of the machines. Hence, you can enjoy coffee for several years.
15 Bar Pump Pressure
To make a good quality of coffee it is necessary to concentrate on a hight amount of pressure on the coffee pods or grounds. Best espresso machine reviews choose this machine as one of the best espresso machines because of the feature if 15 bar pump pressure. This assures you that every time you get quality results.
Adjustable Controls
It has adjustable controls that allow you to make the modifications in the coffee as per your preferred taste.
Build Quality
Delonghi EC espresso and cappuccino maker has a normal build quality that is good for the price. The form factor is made up of plastic where the boiler is stainless steel.
Though this unit didn't make it to our Best Espresso Machine guide, it still have some quality features. Let's have a look.
We also have another Best Automatic Espresso Machine Reviews , if you want to check that out !
Let's A Video Review On Delonghi EC155 Espresso & Cappuccino Maker
Frequently Asked Questions
After checking all the features and aspects of this coffee machine, we can conclude that. Delonghi EC155 15 BAR Pump Espresso and Cappuccino maker has a tough competition in the market. The machine provides you all the best features in the price range. You now do not have to worry about waking up and going to your favorite barista every morning. All you need to do is buy. Delonghi EC155 15 BAR Pump Espresso and Cappuccino maker so that you can enjoy fresh lattes and cappuccinos every morning. If you are someone who loves to have freshly brewed strong espresso then this machine is just the one for you. The 15 bar pressure pump breaks in the coffee to give you the best taste and aroma in every cup you make.