A coffee maker is a machine meant for brewing coffee anywhere with ease. But, preparing a delicious coffee is not an easy one. Therefore, one should consider buying a machine that helps to high-quality coffee. The Hamilton Beach 49980A coffee maker drip machine requires low maintenance. It allows users to make coffee quickly with the latest features. Users can even clean the filter and the filter basket with ease after making coffee. Moreover, the machine provides ways to make coffee with a perfect balance. In addition, it is very versatile that has elegant designs and functions to obtain optimal results.
The machine enables users to get a different experience in coffee preparation. That's why it is becoming a popular choice of several people in coffee making. Choosing a new coffee maker involves several challenges. As a result, coffee lovers prefer investing money on a machine that suits their requirements. Hamilton coffee machine is an excellent choice for those who want to prepare coffee with unique tastes. It enables users to overcome complex issues in coffee making with the most advanced technologies. Another thing is that the machine gives ways to prepare coffee with required strength that can enhance the moods of users significantly.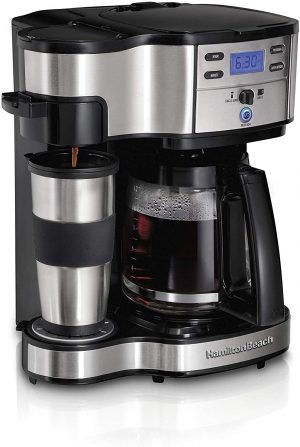 Top Features of Hamilton Beach 49980A Coffee Maker
Two Ways Brewing
The machine provides two ways brewing options for users allowing them to make a single cup of coffee or full pot coffee with 12 full cups. It lets coffee drinkers determine the right size to start their day with more convenience.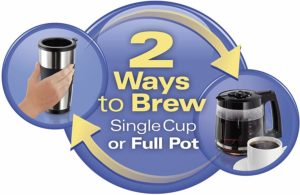 Fully Programmable
Users can set their time on the machine with programmable functions and auto-shutoff. This feature is a suitable one or those who want to smell and taste a fresh coffee after they wake up from a bed.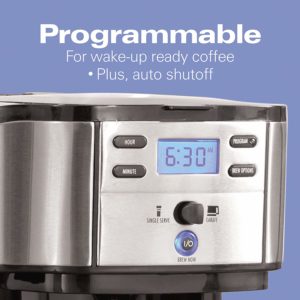 Soft Pad Compatibility
The machine comes with soft pad compatibility thereby giving ways to make both loose and soft beverages. In fact, one can find a built-in pod basket on the machine that can help to store the soft coffee latter. Users can brew coffee directly into the carafe or a short cup with this feature.
Automatic Pause and Serve
Users can find this feature only on the carafe side which pauses the ongoing brewing after removing the carafe from the machine. It won't allow the machine to run again until the carafe returns.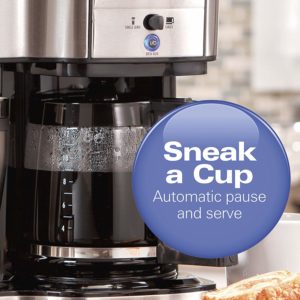 Height Adjustments
There are some people who use both short and tall mugs while brewing coffee. The machine allows users to adjust the heights easily to accommodate all sizes of mugs. All they have to do is adjusting the height of a single server-side by placing mugs at the bottom of the plastic rest.
Hot Plates
The hot plates on the machine allow users not to go through the entire pot of coffee and provide ways to prevent the beverage from getting cold. However, it is not possible to adjust the temperature of warming plates while using the machine.
Mesh Filter And Brew Strength Selector
It is well-equipped with a mesh filter enabling users to use coffee grounds whenever they want to make a drink. The brew strength selector is suitable for preparing regular or other types of coffee based on the choices.
Hamilton Beach 49980A Coffee Maker: Video Reviews
Hamilton Beach 49980A Coffee Maker: Pros & Cons
Frequently Asked Questions
Anyone who wants to enrich their coffee experience can benefit a lot from Hamilton Beach 49980A Coffee Maker. In addition, a two-way brewing option offered by the appliance and the ease of switching between the methods allows users to make coffee with ease.
Apart from that, the easy to program settings make the machine stand above the rest which exactly fulfils the expectations of users. Those who want to invest their money on the right product can buy this coffee maker for ensuring peace of mind. The versatile and compactly designed equipment can fit anywhere in a kitchen or other places.
The built can withstand for a long time due to its high-quality materials that can help to meet essential needs in the coffee-making process.