Hello coffee lovers, are you looking for a coffee maker that gives you barista-quality coffee? DeLonghi EC702 15-Bar-Pump Espresso Maker is everything that you can ask for in a coffee machine. With a pressure pump of 15 bar, the device ensures that you get the coffee of the same price value.
The machine is a little expensive, but it gives you all the best features you can hope for in the price range. It uses ground coffee and coffee pods to make a perfect cup of espresso. This machine is an easy serving espresso machine. If you are someone who loves cappuccino, then you will be happy to use the patented frother that gives you a barista like cappuccino, rich and creamy.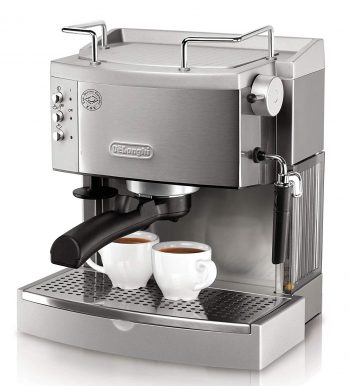 Check Latest Price On Amazon(#ad)

Product Features of DeLonghi EC702 15-Bar-Pump Espresso Maker
Brew Like A Pro
De'Longhi EC702 15 bar pressure machine gives you feasibility to brew like a pro. You can easily brew barista-quality coffee with a single or double espresso shots. You can also prepare lattes and cappuccinos as per your liking with the help of this wonderful coffee machine. Best reviews Espresso machine includes this machine amongst the top 10 espresso machines.
Frother To Foam Your Coffee
You can now foam your coffee in your way. The machine comes with a manual frother which helps to mix the steam and milk and creates a rich and creamy froth to give you evenly textured lattes and cappuccinos. You can now get a foamy coffee just like your favorite barista.
15 Bar Pressure
De'Longhi EC702 15 bar pressure machine operates on a 15 bar pressure. This 15 bar pressure assures that you get quality results every time. The machine also comes with the adjustable controls where you can modify the coffee as per your preference and taste.
One Espresso Shot Or Two
You can choose the strength of your coffee by choosing between having a single shot of espresso or two shots of espresso. The machine has 3 in one filter holder that includes holders for one espresso shot, another for 2 espresso shots and the last one is for and easily serve espresso. You can choose any of this as per your taste preference.
Hot Coffee
The machine serves you piping hot coffee as you have two separate thermostats. You can always brew espresso or your latte as a perfect temperature. The machine has two thermostats to control the pressure of water and steam separately.
No Need To Wait Between Cups
The machine heats up quickly and maintains the temperature in an optimum way that will help you to brew as many cups as you want instantly.
Convenient
The machine has a convenient water tank that is easy to refill, remove, and attach. The level of water is easily visible so you do not have to do the guesswork.
Easy To Use And Clean
The machine operates commonly despite having advance controls which makes it very easy to use. The machine has a removable water tank and the removable drip tray that makes it all easier to clean on the sink.
Though this unit didn't make it to our Best Espresso Machine guide, it still have some quality features. Let's have a look.
Let's A Video On DeLonghi EC702 15-Bar-Pump Espresso Maker Reviews
https://youtu.be/qFUUBiWuwPY

Check Latest Price On Amazon(#ad)

DeLonghi EC702 15-Bar-Pump Espresso Maker: Pros & Cons
Pump driven pressure is 15 bars which give you a really good coffee.
It has a water level indicator.
The machine has an input power of 1100 watt.
Coffee pods or ground coffee can use by this machine.
It has convenient patented filter holders and makes the lattes and cappuccinos frothier.
High durability as the machine is made up of stainless steel.
The machine has two thermostats that give you a piping hot coffee.
It is very compact and lightweight.
The machine heats up pretty fast.
It does not have any auto shut off feature.
The process of frothing is done manually.
The initial few cups of coffee taste a little bad.
DeLonghi EC702 needs to be cleaned frequently.

Check Latest Price On Amazon(#ad)

Frequently Asked Questions
Do I have to wait between cups of coffee?
No, the machine has 2 thermostats that maintain the optimal temperature and give the hot piping coffee one after another which eliminates the need to wait.
The taste of coffee is very good because the machine gives you coffee at 15 bar pressure.
Is the machine completely made of stainless steel?
No, the whole machine is not built up of stainless steel. The outer area is plastic and the boiler is made up of stainless steel.
Does it give you a frothy cappuccino?
The machine comes with a manual frother that gives you Frothier lattes and cappuccinos.
No, the coffee machine does not come with a grinder. You can only use coffee pods or ground coffee. If you want to use coffee beans then you need to get a separate grinder.
Final verdict
DeLonghi EC702 15-Bar-Pump Espresso Maker evaluates to be one of the best espresso machines in the market today. The price gives the value coffee with a rich and authentic taste. The durability of DeLonghi EC702 is unquestionably good as the boiler of the machine is made up of stainless steel and it is easy to use and easy to clean. Unfortunately, you cannot use the coffee beans but coffee pods and ground coffee give you the authentic taste. A machine is a self-prime machine. You get a creamy and rich latte or cappuccino with the patented frother. With several benefits, the machine is worth the price and gives you the value of money.