Hello! Let us welcome to our Mr. Coffee ECMP50 Reviews.
Mr. Coffee is a brand that has been brewing the best coffees since 1970. The brand Mr.Coffee is much famous in America and has served the best coffees in the past years. This espresso maker guaranteed to bring the rich coffee taste in your life with its wonderful mechanism. If you are an espresso lover then Mr. Coffee gives you the best and authentic bold espressos cup after cup.
The machine speaks for itself by providing you the wide arena of features in this price range. You are privileged to choose a single or a double shot espresso as per the taste. You can easily control the volume of your coffee in this machine. The machine operates with a pressure pump of 15 bar that gives you the best results every time you brew a coffee.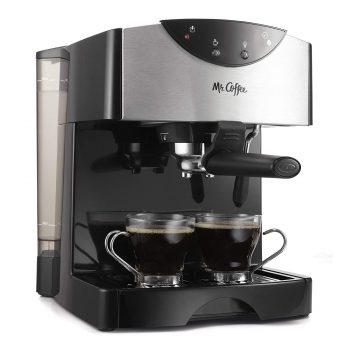 Check Latest Price On Amazon(#ad)

Product Features of Mr. Coffee ECMP50 Dual Shot Espresso Maker
Pressure pump system
Mr. Coffee ECMP50 gives you a pressure pump system of 15 bar. This way the machine lets out a rich and creamy layered espresso. The machine has a removable water reservoir that helps you to refill the reservoir and clean it effortlessly.
Indicator Light
It comes with an indicator light that tells you once the coffee is prepared and the process is complete.
The heating system and the milk frother
The machine has a thermal block type of heating system that heats the water instantly. Because of this, the wait time to prepare your coffee is reduced and you get good hot coffee in no time.
Milk Frother
Mr. Coffee ECMP50 has a frothing arm that steams the milk quickly. The frother has a powerful nozzle which results in a foamy and frothy layer on the espresso or cappuccino.
Prepare creamy coffees
The espresso maker has a single as well as double-cup portafilters that deliver a perfect cup of coffee every time. The machine comes along with a tamping tool that can help you to even the layer of the coffee grounds in the portafilter.
Removable drip tray
With the feature of a removable drip tray the machine stays neat and tidy as you can remove the drip and wash it anytime you feel feasible.
Though this unit didn't make it to our Best Espresso Machine guide, it still have some quality features. Let's have a look.
Let's A Video On Mr. Coffee ECMP50 Reviews


Check Latest Price On Amazon(#ad)

Mr. Coffee ECMP50 Reviews: Pros & Cons
Pump driven pressure is 15 bars which give you a really good coffee.
Removable drip tray to reduce the mess.
2 single-shot coffee is possible with a dual shot brewing facility.
Frothing arm gives creamier and Frothier lattes and cappuccinos.
The beverage preparation time is faster.
The water tank is removable that can be easily refilled and cleaned.
It comes with a measuring scoop/Tamper and a filter for single as well as a double espresso.
Easy to use.
Easily affordable.
Compact in size and design. It can easily fit anywhere in the kitchen.
No advance settings as it is a very basic version.
Frothing arm is a little short.
You need to turn the dial to stop the Espresso.
You cannot make Espresso and steam at the same time.

Check Latest Price On Amazon(#ad)

Frequently Asked Questions
Does this machine only make espresso?
No, you can make lattes and cappuccinos as well in this machine. The machine comes with a frother that has the capability to steam and froth the milk.
Does it come with any kind of tamper or a frothing pitcher?
The machine comes with a plastic tamper that helps you to even the coffee grounds in the machine. However, the machine does not come with any type of frothing pitcher as off now.
Can you help with a proper grind method?
The machine does not come with a coffee grinder. You need to have a separate coffee grinder if you want to use coffee beans. If you are using ground coffee then you need finer grounds for espresso as compared to the Lattes. You cannot use coffee pods as well.
How often should I clean the espresso maker?
You need to know that mineral deposits will start building over time in your coffee machine which will hinder the brewing process and slow it down. If you start noticing that the coffee machine is taking a longer time than usual to brew your coffee then it is time to clean your coffee machine. Since it has a removable water reservoir and a removable drip tray, it is easy to clean this espresso maker anytime you want.
Is it possible to make espresso and foam milk at the same time?
No, the machine is designed to do only one thing at a time. This is because you will have to turn the dial to one or the other and you have to turn the dial manually to start it or stop it. The machine also makes a little noise and vibrates while your coffee is getting brewed.
Final Verdict
Best espresso machine reviews suggest that Mr. Coffee ECMP50 Dual Shot Espresso is just the right machine for you if you are an espresso lover who loves bold Espressos. With this machine, you get a rich and dark brewed espresso that is so smooth to drink. The machine gets heated in no time with its thermal block heating feature. It has a removable drip tray that reduces the chances of spillage and is very easy to clean. The machine also has a removable water reservoir that is easy to refill and reattach. This machines come with a warranty period and is super pocket-friendly. 80$ to be invested in the machine so that you can save a lot of money on those barista coffees.