Best espresso machine reviews suggest that, DeLonghi ESAM3300 Magnifica Super-Automatic Espresso maker is a reliable machine to choose when you are heavily spending to get the best product in the market. De'Longhi is a trusted brand and has been in the market for years. This is one of the high-end coffee maker brands that assure to give you the best cup of coffee whenever you switch it on.
DeLonghi ESAM3300 Magnifica Super-Automatic Espresso maker comes with a patented frother that gives you a rich and creamy layer in your espresso exactly the way you like. With this machine, you are opening yourself to have a wonderful experience of freshly brewed aromatic coffee every morning just as your liking. Best Espresso machine reviews bring you a detailed review of this machine so that you know what you are exactly stepping into.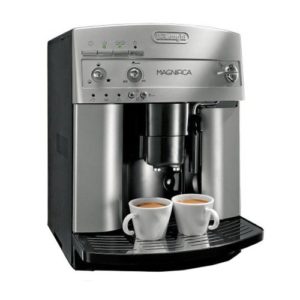 Check Latest Price On Amazon(#ad)

Product Features of DeLonghi ESAM3300 Magnifica Super-Automatic Espresso
In DeLonghi ESAM3300 Magnifica Super-Automatic Espresso Reviews we also describe some attractive features which will be helpful for choosing your best espresso makers.
You get fresh Espresso for each cup
It has burr grinder that comes with 13 different adjustable settings in it. This burr grinder grinds fresh coffee beans each time you come for a cup of coffee. This way you get a fresh cup of coffee every time. The machine also allows you to use this pre-ground coffee in another chamber. You can have the coffee as per your choices from regular, decaf, or specialty.
Foam your coffee your way
The machine has a manual type frother that mixes the milk and the steam that creates a very rich and creamy layer of froth on your drinks. Thus the coffee maker provides you a properly textured espresso, Lattes, and cappuccinos.
Brewing is consistent
Every cup you make automatically brews at the perfect temperature. The cup of coffee is dense and full of richness. The machine also comes with customizable settings.
Easy to handle and clean
It has the compact and removable brew sections which make it easier to clean. The chamber self adjusts for one or two shots of espresso.
Delicious cappuccino and Latte
It has an adjustable manual cappuccino and Latte system that missed the milk and the steam. This way you can get a thick and long-lasting foam on your cappuccino. The leaves are also easily adjustable in case you want to prepare a creamy latte.
Customized Espresso drinks
This wonderful De'Longhi machine has customizable features. You can customize the type of coffee you want and your machine will remember it for a lifetime.
Easy to use control panel
Simply you have to adjust the menu settings for the strength, temperature and cup size according to your preference.
Easy support
The support for De'Longhi is very supportive and helps you set up the machine anytime you want.
Though this unit didn't make it to our Best Espresso Machine guide, it still have some quality features. Let's have a look.
Let's A Video On DeLonghi ESAM3300 Magnifica Reviews


Check Latest Price On Amazon(#ad)

DeLonghi ESAM3300 Magnifica Reviews: Pros & Cons
Compact and high performance. It has patented a new boiler that is very compact that distributes heat excellently and also guarantees to give a perfect espresso at the ideal temperature.
Timelessly reliable because of the stainless steel removable boiler.
The machine is easily cleanable.
The machine reheats instantly.
It has a removable water tank and bean container.
Contains both beans and ground coffee.
Comes with a butt grinder to give aromatic coffee.
The height can be adjusted to all the different type of cup sizes.
Easy to use control panel so you can customize the type of coffee you want every day.
As it has a burr grinder it makes noise while grinding.
Small water reservoir which needs refilling.
Slightly expensive as compared to pod machines.
Need to hold the milk pitcher under the nozzle while the machine is frothing.

Check Latest Price On Amazon(#ad)

Frequently Asked Questions
Is the tamping happen automatically?
Yes, with a one list button you can grind, tamp, and extract. You can make lattes, cappuccinos, Americano, and espresso.
Yes, the machine comes with a burr grinder that gives you a great and aromatic coffee. The richness of aroma and taste makes this coffee machine a go-to.
Does the machine steam without frothing?
The machine steams without frothing. You just have to put the wand deep in the milk.
Is it easy to clean the machine and how often does it need cleaning?
You can clean the machine easily as it has a removable water reservoir. You can clean the machine once every month or fortnight.
Final Words
DeLonghi ESAM3300 Magnifica Super-Automatic Espresso is a proven design machine that ensures your durability and reliability at the same time. The machine makes strong and barista like tasting espressos. The machine is very easy to clean for the provision of a removable water tray and drip tray. With an integrated burr grinder, this machine gives you the provision to use the coffee beans that will give out a rich and aromatic coffee every time you need it. With a warranty of 2 years, this machine speaks for itself with the outputs. The machine gives a high rate of satisfaction as compared to failure. The machine has dual heaters for fast heating. DeLonghi ESAM3300 Magnifica Super-Automatic Espresso machine gives you the creamier and rich espresso.