Klarstein Aromatica Nuovo Glass Coffee Machine is a beautifully designed machine that has brought a different paradigm in the look of coffee machines. It is a brewer plus grinder machine which provides you many unique features. Klarstein Aromatica Nuovo Glass Coffee machine is rated as one of the top coffee machines in the market. With the number of features and the pricing, Klarstein Aromatica Nuovo Glass Coffee Maker brings you the best kind of coffee that you will want to have every morning. Let us look at the details of this coffee machine one by one.
Top Features of Klarstein Aromatica Nuovo Glass Coffee Machine With 5 Stage Grinder
Design And Look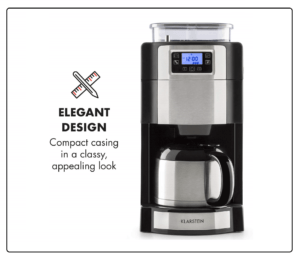 This machine has been thoughtfully designed. It is a matte black and a polished stainless steel machine. This perfectly fits into the category of traditional and modern coffee machines available in the market. This product makes a good content of furnishing for your kitchen.
High Quality of Machine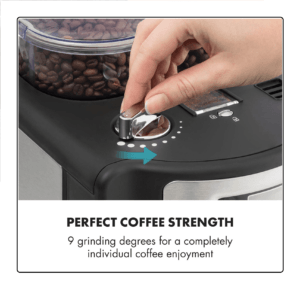 This machine is unique as it comes with a 5-stage fully equipped grinder. The device has the capability of efficiently brewing up to ten cups of fresh and aromatic coffee to give your morning a kick start.
Sober and Straightforward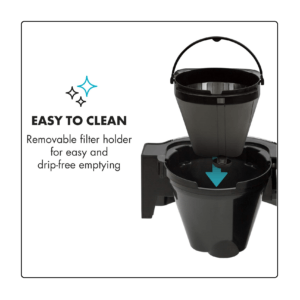 The functionality of this machine is simple. The filters are simple as well. They are permanent filters of high quality that cannot be disposed of. These filters remove all the impurities of the coffee machine and provide you with a tasty and fresh coffee.
The Right Temperature and Perfect Taste
The best part of coffee is the temperature. The right temperature gives the true taste and aroma. This machine has a useful heating element that maintains your coffee at a perfect temperature. The water tank has a window with a level indicator to make water filling easy
Built-In Drip Protection
Nobody wants a mess, and this has been taken care of by the manufacturers. They have built-in drip protection that prevents the spillage and gives a mess-free coffee.
Custom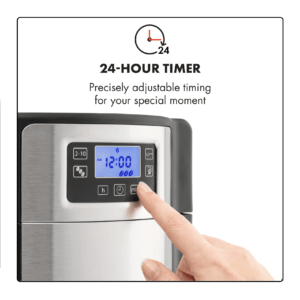 A 24-hour programmable timer is present that lets you program your brewing the way you want for a perfect wake-up coffee.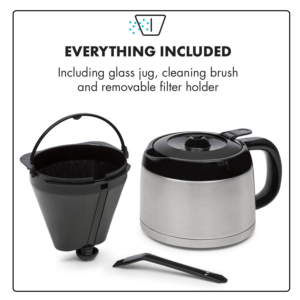 Though this unit didn't make it our best coffee maker with grinder guide, it still has some quality features. Let's have a look!
Pros & Cons of Klarstein Aromatica Nuovo Glass Coffee Machine

PROS

With the 24 hour times, you can schedule your wake-up coffee without any issue.
The product comes with a warranty period.
The design of the product is both traditional and modern, which gives a classy look to your kitchen.
The coffee machine comes with an all 5 stage grinder. This 5 stage grinder not only gives you the freshest coffee but is the best when it comes to efficient grinding.
The machine that a useful heating element that maintains the temperature of your coffee. With the heat, the taste of the coffee is also preserved.
The machine has drip protection that is built-in with the device. This makes your coffee machine to be mess free.
The size of this machine is small, and it is easy to fit anywhere.
As there are no complicated dials, this machine is straightforward to use.
One can get a perfect froth too on their coffee with this machine.
There are no methods provided to control the strength of coffee that you want. This coffee machine will give out only one kind of coffee.
Although the grinder is a 5 stage grinder, it makes a lot of noise while grinding. This avoids the need for your quiet morning coffee.
There are no grinding controls present in the machine. Hence, you cannot control the type of grind size you want. There is only one default grind size in this machine.
Frequently Asked Questions
Is it a 5 stage grinder brewer machine?
Yes, the machine is a 5 stage grinder that provides the best and freshest type of coffee. This machine also provides an efficient grinding mechanism.
Does this machine make any noise?
Yes, the machine makes a noticeable amount of noise.
Can I set the strength of coffee in the machine?
No, unfortunately, you cannot. The machine comes with a basic design where there are no dials. The design is made to use this machine easily as people can get confused with buttons. Since there is no strength controlling dials, you cannot control the power of the coffee.
What if I want to take my coffee before it brews completely?
There is no brew pause feature in this machine. Hence, you cannot take a cup of coffee in between a brew cycle.
Is the coffee piping hot?
The coffee is adequately hot. There is a heating coil present in the machine which gives you the right amount of heated coffee.
How do I configure the auto timer?
The auto timer can be configured by reading the manual. The steps are easy to follow.
With so many provided features Klarstein Aromatica Nuovo Glass Coffee Machine is one of the best coffee machines in the market that are worth your money.