Welcome to our Coffee making Guide. 
Coffee is considered to be the best 'pick-me-up' drink to start your day. It does more than boost you up by adding several health benefits to itself. There is a good approximation of 60 Percent of the population around the globe that prefers coffee to be their go-to beverage. It is the best drink to wake you up in harsh winter mornings, to be enjoyed while reading, and to boost your mood when you are tired. Coffee being rich in antioxidants also provides you with a lot of health benefits. Now you are going to read our complete coffee making guide and everything about coffee.
If you are someone who loves coffee as much as every other coffee person on the planet, then this is the right place for you. It appeals more if it is readily available in your home during your cravings. Are you tired of running to a store every morning to get a fresh cup of coffee? If you are, then you can brew a fresh cup of coffee for yourself that is as good as the barista you go to.
All you need to do is to put a little effort and invest a minimum amount of money, and you can have your single-origin pour overs. Check out this article to provide you a complete coffee making guide that you will need about brewing your cup of coffee.
History of Coffee Cultivation
As a coffee lover you must wish to know the everything about coffee and for that we describe here the history of cultivation with this coffee making guide.
No one is entirely sure about the origin of the coffee, but many stories depict the heritage and beginning of the coffee era.
Originating from the Ethiopian Plateau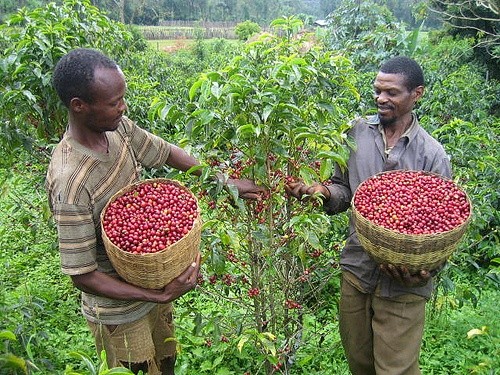 Ethiopian Coffee Farmers
Some legends say that coffee forests were first found in the Ethiopian Plateau. Kaldi, a goat herder, was the first one to discover these beloved magical beans. The discovery happened after his realization that his goats would not sleep the entire night after eating the berries that fell from a particular tree. They were very energetic. This discovery, when shared with an abbot, was tested and approved by other monks and monasteries. With the world moving to the east, the coffee made it to ArabianPeninsula.
Arabian Peninsula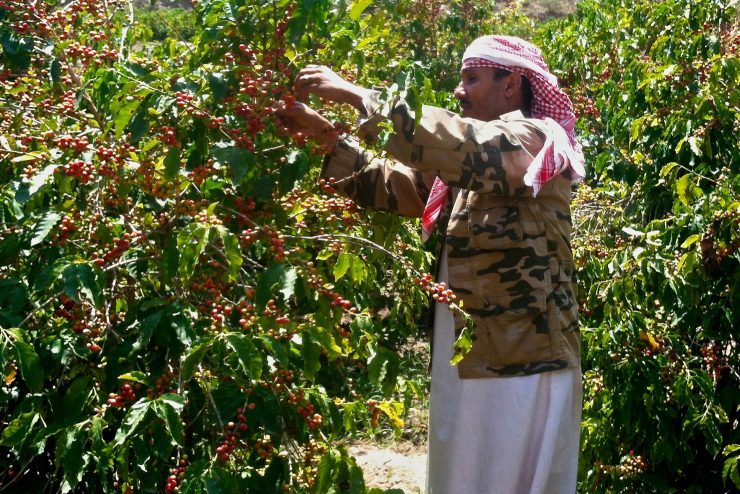 Farmer Picking Coffee Cherries
This was the time during the 15th century that coffee had become a commodity of the trade beginning in Arabian Peninsula. By the end of the 15th century, coffee was not just a homemade beverage, but it was the beverage to be served at coffee houses in the cities across Near East. This all led into the increased population at coffee houses which were not just there for a cup of coffee but to also engage in other social activities. This drink was called to be the 'Wine of the Araby" which became popular across the world because people would come to Mecca throughout the year.
Europeans loving coffee
Several travelers were coming back from the Near East, who brought back the beautiful stories of this magical beverage. This is why, by the end of the 1700s, coffee had become a favorite drink across Europe, and people were enjoying it happily. There was a lot of controversy regarding this beverage which had to be approved by Pope 8 during that time. He found this beverage to be very good and equally satisfying. It was quite noticeable that despite the controversy, the coffee houses were making immense progress in engaging people in the social activities throughout France, England, Germany, Austria, etc.
After all these years there was the time when coffee came to America. The crops of coffee in Brazil had become a famous Brazilian coffee to be cultivated in America. The top 10 places to develop coffee in the world are Colombia, Ethiopia, Indonesia, India, Mexico, Honduras, Brazil, Uganda, Guatemala, and Vietnam.
Coffee Making Guide for a Beginner
It becomes challenging to bring your coffee if you are a beginner. Even the experienced ones cannot get their coffee right at the times they want. If you are a beginner, then you have come to the right place as we are not suggesting a way to help you brew coffee with this Beginner's coffee making guide of making their coffee. This will save the ride to your barista every morning and will help you to get a fresh cup of wake up coffee at your home.
There are three ways to prepare coffee at home.
Classic drip coffee
The pour-over type of coffee
French press coffee
1. Classic Drip Coffee Making Guide
https://youtu.be/fvFcN3svJP8
Drip coffee is usually obtained from a coffee machine, which is very convenient when you are having a hectic morning. Depending on the type of your drip coffee machine, you can make up to 12 cups of coffee at one time. All you need to do is follow the following steps:
If you are using whole beans, then first grind the seeds that have a uniform consistency which is similar to table salt. Later than that, you can transfer the grounded coffee into the filter and then put it in the drip machine. Now you can see me you will the water spout over the center of the ground coffee.
Now you have to pour clean water in the back portion of the machine and press the start on button.
When you see the coffee brewing getting finished, you need to turn off the computer to avoid it from getting burnt. This will help you avoid the burnt taste. Ensure that you clean your machine with a mixture of water and vinegar once every month that will remove all the types of built-up residue.
2. The Pour-Over Type Of Coffee Making Guide
https://youtu.be/dyf73Nr-tDI
The pour-over method of the coffee is undeniably the best method of pouring a coffee. It will give you a delicious, complex, and aromatic cup of coffee that won't disappoint you at all.
Boil water into a kettle.
Ground the whole beans which will give you a uniform consistency as that of granulated table salt.
Now you need to put your filter in the brewer entrance and rinse it with the hot water. Rinsing with hot water will remove all the kind of paper residue that is stuck on the filter, and it will warm up the brewer, which will keep your coffee hot for a more extended period. You can discard the water that you have used for rinsing.
Now you need to add the grounds to the filter at a surface level. When you see that the water is boiled between the temperatures of 195 degrees to 205 degrees Fahrenheit then slowly pour the water over the grounds of the coffee to saturate them thoroughly. You can start your way from the middle and take it to the outside. You can stop this before the coffee begins to drip.
Now all you have to do is to slowly pour the remaining water by keeping the water in the dropper at least three-quarters full. Carefully remove the filter, and your coffee is now ready to serve and enjoyed.
3. French Press Coffee Making Guide
https://youtu.be/wCkbtt0hckA
You can make your coffee like Europeans in a French press way.
Boil the water in a Kettle.
Instead of using whole beans, grind the seeds that have consistency that of breadcrumbs. Make sure that the ground coffee is of the uniform size that has a lot of fine grit in it. You can now at the ground to the fresh French press.
You can add water into the French press was the temperature of the water is between 195 to 205-degree Fahrenheit. Now you have to stir the coffee vigorously and let it brew for 4 to 5 minutes. Once it is true, you need to slowly plan the press and separate the coffee grounds from the coffee.
Lastly, all you need to do is serve your coffee and enjoy.
Coffee Making Guide for Make A Coffee Regularly
It will be incomplete if we don't describe a regular coffee making procedures in a coffee making guide. Now you are going to read about this topic. 
Buy yourself some fresh beans. Coffee is considered to be the best when it is used within the days of getting roasted. The best way to find yourself some absolute fresh beans is to buy the Beans from a local roster. Do not buy the coffee from the supermarket as light and oxygen can harm the flavor and can give your coffee a whole different flavor and aroma. You can purchase coffee beans that are packaged by rosters who are quality conscious. They prefer to sell them in sturdy and vacuum seal bags.Store coffee beans properly to keep them fresh. Show the coffee beans in an airtight container. You can choose ceramic storage containers having a rubber gasket seal for glass canning jars to be the choices of your storage. Do not dare to refrigerate your coffee beans as the roasted coffee beans will readily soak up the whole moisture and all the food order around it. If you consult a flavor expert, then you will know that it is strongly recommended to not consume frozen coffee. If you do not like to store them or find it very difficult, then you need to buy a supply of only five to seven days of fresh beans at a time to store them at room temperature.
Be careful when you are trying to buy a good packet of coffee. Try to go for detailed packages which contain the details of the state, country, region, and state of origin. 20 type of more information indicates that the coffee is produced very carefully and are packaged to give you a lifetime of better-tasting coffee. Do not find yourself a cheaper alternative for quality and expensive brands.
Grind your coffee. If the coffee is not grown correctly then it will lose its quality immediately after grinding. You need to ground your coffee just before you want to brew it. This keeps the flavor of the coffee very fresh and gives you a better aroma as compared to the stale ground coffee.
Use the right kind of water while you are trying to prepare your coffee. There is no point in going through the whole square if you are not using a good quality of water while making your coffee. Do not use tap water, which has chlorine as it will destroy the flavor of your coffee. If you are a serious coffee lover, then you need to use spring water, or you need to use activated carbon filters on the water taps.
Avoid any kind of uses of cheap filters. If you are finding out, then some login price coffee filters then it is only going to produce a coffee that is of inferior quality. You need to look for dioxin free or oxygen bleach type of paper filters. If you want you can invest some money in long live gold plated filters so that you can get up a good cup of coffee. Good filters remove all the type of impurities and reduce that will give your copy of exquisite aroma and taste.
Do not compare yourself to the coffee powder. The best method of bringing coffee is to take a proper measurement of coffee as well as the water. For every two tablespoons of coffee, you need to put 6 ounces of water. If you use the less amount of coffee and hot water, then you are bound to get some bitter taste in your coffee.
Find out the correct temperature. If you are serving your coffee to be too hot, then it is going to extract all the compounds in the coffee and will make it taste bitter and unpleasant. The adequate doing temperature is of 200-degree Fahrenheit that you will brew for about 45 seconds. If you are continually reheating and boiling your previous coffee, then it will taste bitter and will also give a foul smell.
Keep your coffee machine and all the containers very clean. The best trick of having a good coffee is to continually clean the storage containers in grinders of your coffee machine so that you have a freshly brewed cup every time you want. Proper cleaning will help you to remove all the residue and the smell that comes with unclean containers. 
Let's Look Some Best Coffee Makers Available In The Market with This Coffee Making Guide
In this coffee making guide we also describe some popular and best coffee makers mainly thinking about the Beginner's. 
Cuisinart DGB-550BK Grind & Brew Automatic Coffeemaker, 12 Cup, Silver/Black
You can now start your morning utterly fresh with a boost by having an aroma and flavor-rich cup of coffee that is freshly brewed. You sleepy morning will now bid you goodbye. This 12 cups deluxe coffee maker is going to change your life with its best features.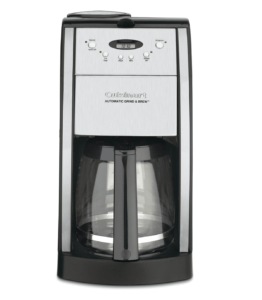 This coffee machine is straightforward to clean as it has a separated assembly to grind. It has an easy to clean filter chamber that makes it easy to add beans and grounded beans to remove quickly.
Grind off function that helps you use your pre-ground coffee to make it more convenient.
It has a 24-hour programmable unit which gives you an option to have your "wake-up" coffee. It has brew pause functionality so that you can have your coffee before the end of the brewing cycle.
It provides auto shut off functionality for 0 to 4 hours and also has 1 to 4 cup feature.
A glass carafe of 60-ounce makes up for an excellent dripless serving.
You get a gold tone commercial and a charcoal water filter that removes all the impurities. This gives you a pure flavor of coffee without any alterations.
This product comes with a limited 3-year warranty. The product comes with an Italian styling that adds elegance to your kitchen.
This product has parts that are dishwasher safe.
We also have a complete Cuisinart DGB-550BK Grind & Brew Automatic Coffeemaker Reviews if you want to check that out.
Capresso 465 Digital Coffeemaker with Conical Burr Grinder
Capresso features the conical grinder that you have as a built-in component into the machine along with the carafe. This is a 10-cup coffee maker that makes this Digital Coffeemaker as one of the best, most compact, and most convenient modes to make coffee. You can consider it to be as the most sophisticated type of burr grinder.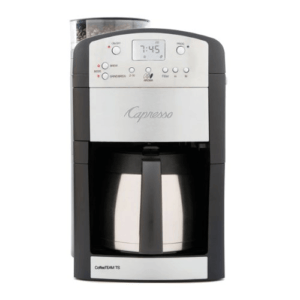 It has a Thermal carafe with stainless steel to keep your coffee warm for a longer period.
The stainless steel gives it a stylish and elegant look.
The direct-feed technology in this coffee maker is very innovative and helps the coffee filter to stay inside the machine. Hence aroma and the flavors develop.
A strength controller is present in the coffee machine for you to control the strength and get the cup of coffee you desire
You have the settings installed in the machine to perform two different types of tasks, manual as well as automatic.
Aromatic coffee with the help of the burr grinder that stays fresh for a more extended period.
You can now select your grind size.
We also have a complete Capresso 465 Digital Coffeemaker With Conical Burr Grinder Reviews if you want to check that out.
Breville BDC650BSS Grind Control Coffee Maker
If you need the most user-friendly coffee machine, then you are precisely in the right place. This is the first household coffee machine that enables you to have an adjustable grinder having a proper calibration. Here your coffee beans are always grounded before brewing them. Coffee gets brewed within minutes.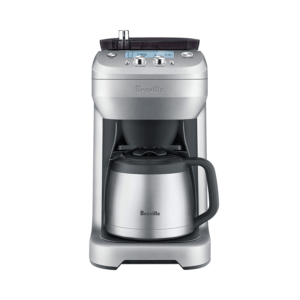 It has a Programmable auto-start with a timer:
The water tank capacity is 60 ounces.
LCD that gives you real-time feedback of the machine.
The carafe is a 12 cup carafe.
Easy to clean.
You can now control the strength of your coffee
Removable drip tray that takes care of spilling.
Pre-brew function to keep your coffee hot.
We also have a complete Breville BDC650BSS Grind Control Coffee Maker Reviews if you want to check that out.
Cuisinart GB-900BC Grind & Brew Thermal Automatic Coffeemaker
You can now enjoy a good coffee cup every morning with the magnificent Cuisinart Burr Grind & Brew Thermal 12 Cup Automatic Coffeemaker. Now you can go on and impress your family and friends by the authentic taste of this freshly ground burr coffee.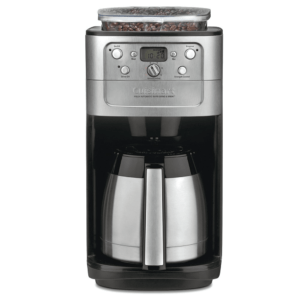 It gives you a Rich cup of coffee with the help of the burr type grinder.
It has a Stainless steel Thermal carafe that keeps your coffee hotter and fresher for a more extended period.
It is a 24-hour fully programmable coffee maker that comes with a brew pause feature.
12 cup carafe that holds up to 12 cups of coffee.
Bean hopper present with a functional capacity.
 You now get a grind control volume and intensity function for your convenience.
We also have a complete Cuisinart GB-900BC Grind & Brew Thermal Automatic Coffeemaker Reviews if you want to check that out.
Cuisinart DGB-650BC Grind and Brew Thermal Coffeemaker
Now you can retire your alarm, and instead of a sleepy morning, you can wake up to have an instant pot of hot coffee brewing just for you. Yes, you read it right. The new Cuisinart Grind and Brew Thermal coffeemaker provide you with a fantastic cup of freshly ground coffee that is just brewed. This coffee maker gives the best quality of 10 cups freshly ground, pure and rich aromatic coffee. This can be a perfect addition to your elegant kitchen.
24-hour programmable: 24-hour functionality of this coffee machine provides you the ease to program the time you need your coffee.  The carafe is a thermal carafe that maintains the temperature of the coffee present in it.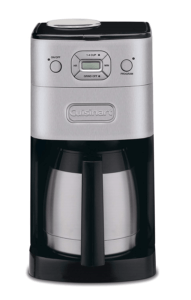 You have a product with a 10-cup capacity which has a bean grinder built in it.
This product offers the facility of Auto Shut off because of its fully programmable feature. One can hit Brew pause if they want to pour themselves in the middle of any brew cycle. There is a 1-4 cup setting while you also get a grind off option in case you are using a pre-ground coffee.
The carafe has a dual wall of stainless steel, which makes the carafe thermal. This way, all the freshness and the temperature of the coffee are preserved.
You get a gold-tone filter along with a charcoal filter to ensure that you will have a fresh cup of coffee whenever you need it.
Automatically starts grinding all the beans before brewing.
We also have a complete Cuisinart DGB-650BC Grind and Brew Thermal Coffeemaker Reviews if you want to check that out.
KRUPS Grind and Brew Auto start Coffee Maker
Want to save your trip to the coffee shop every morning. Now brew your fresh coffee at home with this fascinating KRUPS Grind and Brew Auto Start Coffee Maker. You do not need a grinder separately; this peculiar coffee machine comes with a burr grinder, conical in shape built inside the coffee maker. You have a drip coffee maker that has a blender integrated that provides you an exceptionally fresh and tasty coffee.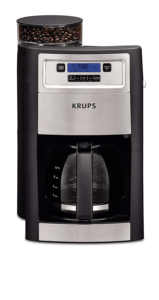 It comes with a 2-10 cup selector. You can have perfect control over your coffee quantity by using this feature. This way, you can customize your amount of coffee from 2 to 10 cups.
Choose your coffee type: The burr grinder grinds the coffee so precisely which can be moderated from fine to course as per your choice. This way, you get a freshly-ground cup of coffee that is richly aromatic and full of taste. This burr grinder has five specific settings. You have the feature to choose the coffee type and the desired drink.
This machine has highly intuitive Controls with a crystal-clear LCD. This feature makes this coffee maker more user-friendly.
Another important factor while making a coffee is to consider the strength of the coffee while it is getting brewed. To your delight, you will find that this particular grinder has a function to set the power of the coffee from Mild, Medium, and reliable.
This coffee maker machine has a keep warm feature that maintains its temperature for two hours.
The gold-tone filter present in the coffee machine helps to clean easily without any hassle.
You have the privilege to pour yourself a coffee anytime between the brew cycles. The design of the carafe helps to pour a drip-free cup of coffee.
We also have a complete KRUPS Grind And Brew Auto Start Coffee Maker Reviews if you want to check that out.
Final Words
Coffee is the best beverage that is known to be loved by people all around the world. It is considered to be the perfect drink for all the seasons and all the moods. You will enjoy a cup of coffee while reading your favorite book, watching your favorite sitcom, early in the morning to wake you up or late at night when you want to stay awake and sleep. All you need to do is to brew yourself a cup of coffee whenever you feel the need for it. With the help of this coffee making guide, you will be specific as what are the best coffee machines in the market if you prefer a drip type coffee. 
Reading this coffee making guide helps you to know the facts and history of coffee cultivation which you can flaunt at the dinner table with your friends or your date. If you are someone who doesn't know how to make your coffee, then this article will give you the gist of it. You will not only know the facts about coffee, but you will also know as to how you can make yourself a pour over coffee that is much more better, tastier, fresher than the barista right across the street. If this coffee making guide didn't fulfill your desire please let us know. We will continue to publish new articles regularly.
Related Post
Different Types Of Coffee Beans